Sale and buy are the central processes of trade and commerce and the POS that stands for Point of Sale is a key factor in this regard. Typically Point of Sale(POS) meant the place where a buyer exchanged cash with a seller for goods or service. But with advanced technology, POS is not limited in the manual exchange of currency or merely in the cash receipts. Computers, mobile phone, programming, and the internet have modified it and made POS easier and more effective. Point of Sale assures safe business avoiding traditional transaction system and prevents any type of mismanagement by the employees. It also assures time consuming and increases productivity. POS contributes to increasing revenue, reducing labor hour and achieving savings on annual basis. At present, most of the commercial organizations or agencies worldwide rely on Point of Sale system. Bangladesh is not an exception in using POS software. Soft IT Security provides you the best POS software in Bangladesh. We have already provided this best POS software in Dhaka and other major cities in Bangladesh as well as outside of the country.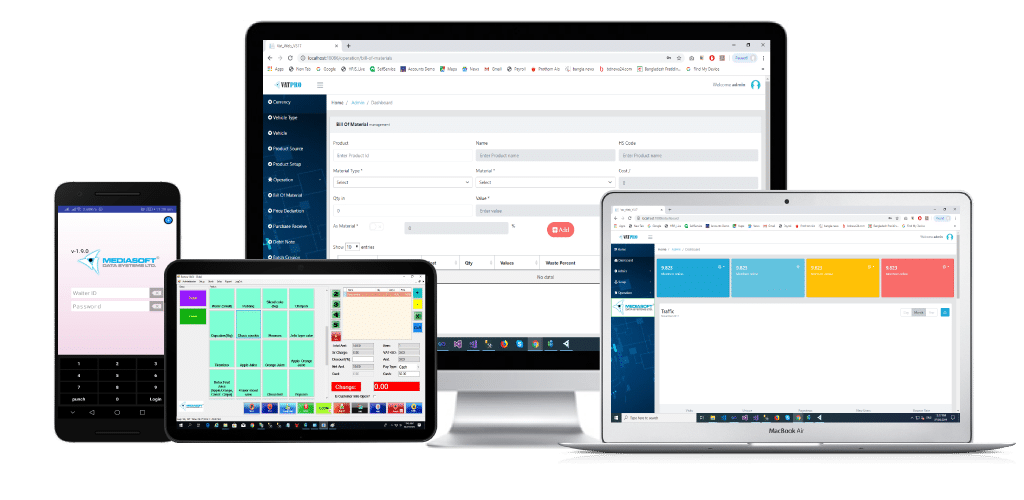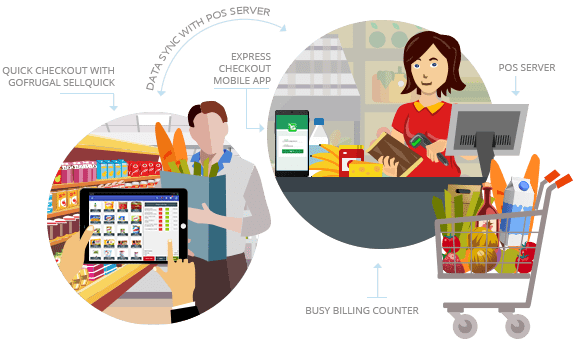 ♦ Customers: You can add unlimited customers name and their details like address, mobile number, email address etc.
♦ Items: You can add unlimited products or item here with stock information, supplier name, inventory info, barcode number etc.
♦ Suppliers: You can save your supplier information here with their contact details.
♦ Receiving: If client back your product then this option will help you to receive the product that will hit your inventory
♦ Sales: This option help your sales person to sale your product from stock & receive the payment by cash or card
♦ Employees: You can add unlimited stuff with individual access level. Employee can use this software according to their access level.
♦ Store Configuration: You can set or edit your shop information, address, phone number here.
♦ Barcode integrated purchase and sales system is available here.
POS system is the 'powerhouse' of a business. Basically, Point of Sale(POS) system refers to the combination of computer hardware and software performing precise business transactions. The age-old tradition of heavy paperwork is no more. Rather, it is like a digital cash register with some hardware such as a server, a computer terminal and keyboard at the checkout site, a cash drawer, a credit and debit card swiper, a pin pad, and a printer for customer receipts. With the help of the hardware, the main computer that is connected with several checkout terminals and builds a computerized network; the POS system. Computers are able to capture, away better than the traditional cash registers. The system brings accuracy in inventory, reporting, ordering. POS system also saves time, increases efficiency and assure better customer service. There are many kinds of POS system based on different business. Do you want the best POS system? CYBERHOSTING offers you the best POS software in Bangladesh.
♦ Unlimited User
♦ Access from anywhere
♦ Unlimited PC access
♦ Unlimited Employee Access
♦ Individual access & user panel
♦ Low cost & best support
♦ Sales Report: You will get day, month & year wise sales report with stock, vat and profit information.
♦ Categories Report: You can check how much product are in your stock in category wise.
♦ Customers Report: You can check which customers take how much product with price by date wise.
♦ Suppliers Report: You can see the supplier list & their products here.
♦ Items Report: You can see the stock report and sales report here date wise.
♦ Employees Report: You can check which employee sale how much & deal with which customers.
♦ Taxes Report: You can see all tax report here.
♦ Discounts Report: You can see how much discount you provide to your clients and total summery report.
♦ Payments Report: You can see all payment details date wise.
♦ Low Inventory Report: If your product is in a re-order level then this option show you the current status.
♦ Inventory Summary Report: Full inventory report is here date wise.
♦ Language: PHP
♦ Database: MySQL
♦ Framework: CI